HISTORY
According to Canadian census documents, there have been Jews in Peterborough since 1811, with numbers climbing slowly but surely: to 29 people identifying as Jewish in 1911, 136 (out of a total Peterborough population of 25,350) in 1921, and to 256 Jewish people in 1961. The Jewish population has remained relatively steady since that time, with the 2001 national census showing over 300 Jews in Peterborough.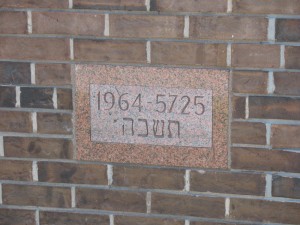 In 1911, with the community growing, a committee formed to seek a man to serve as Schochet, teacher and Chazan. They found and hired Philip Black who "with great zeal and dedication began to build the spiritual life of the Jewish Community". From the early 1900s until as late as 1940, a system was in place whereby money was collected (at first 50 cents per family per week) to pay the Schochet. Black served for two years, married, and, with the community being unable to support a full-time professional, Black took up as a merchant, while continuing as an active member of the Jewish community. Families active in Jewish Community life in Peterborough around the turn of the last century onward included (but were certainly not limited to) Blacks, Florences, Lows, Swartzes, Sukoffs, Zacks, and Cherneys, Greens, and Fines.
In the earliest days of Jewish community life, services took place in homes, with public space being rented for High Holiday services. In 1922 the community leased a house (where the Schohet lived), with a hall on the second floor, located on Water Street. In 1928, with the growth of the community, the Hadassah Chapter began raising money for a synagogue.
Rabbi Abraham Fine was the rabbi of the Beth Israel Synagogue from 1926 to 1938. He was not an ordained rabbi, but he was a very knowledgeable person and acted as spiritual leader until the ordained Rabbi Babb was hired in 1938. Rabbi Fine's memoirs of that time as translated by Pierre Letourneau from Yiddish are a fascinating read and can be found at this link. The memoirs recount many of the local Jewish life cycle celebrations with specific reference to members of the Jewish community and their participation but also troubled concerns about European Jewry and Israel during those years.
In 1933, a house owned by the late Abraham Swartz on Aylmer Street was purchased and remodeled into a synagogue. It was then that the name of the Peterborough Jewish Society was changed to Congregation Beth Israel. During WW II, the Jewish population of Peterborough increased, and along with it the need for a larger building. In 1945, the Methodist Sunday School building on Reid Street came up for sale, and a committee headed by Mr. Myer Cherney negotiated for and bought the building. It was then remodeled into a synagogue and community Centre (potentially usable photo in book), and served in this capacity until the 1960s. At this time, A.M. Babb served as Rabbi to the congregation.
Both men and women in the Peterborough Jewish community have a long history of charitable activities, with the Peterborough Chapter of Hadassah being founded by 21 women in January of 1924, and officially affiliating with the Hadassah organization of Canada in May of 1927. The group's purpose at that time being to provide medical and health services for women and children in Palestine. Peterborough B'nai Brith Lodge #1392 was formed in the fall of 1939, and charter was granted in November, 1939 (5700).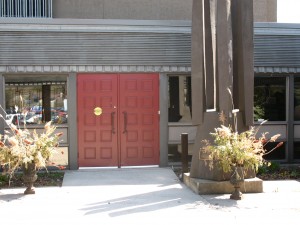 JCC/Beth Israel Synagogue was built in 1964 and inaugurated with much celebration and fanfare, winning an architectural award for Eb Zeidler, who later went on to design Toronto's Eaton Centre and other major works.
In November 2000 the synagogue was renovated structurally at a cost of $250,000. Read more about this memorable event with pictures in a CJN article.
Historically services at the Peterborough Jewish community have followed the Orthodox tradition. However, in 2004, the community voted unanimously to adopt an egalitarian (modern reformed) type service, to appeal to the needs of the city's broader Jewish community – many of whom are intermarried. As of the last few years there has been a noticeable increase in many more families young and old, arriving in the area, from the GTA, as well as other areas around Ontario, Quebec, other parts of Canada, and countries, making us truly international in flavour.
In July, 2004 the synagogue was flooded, for the second time in two years, when our city of 70,000 was swamped by over 200 millimetres of rain in a matter of hours causing the Otonabee River to overflow its banks and city storm sewers to back up.
In 2004, Beth Israel reached a "win-win" agreement to share a portion of the building on Weller Street with the Peterborough Unitarian Fellowship. The agreement includes provisions for the maintenance of a kosher kitchen, and a sharing of the space around concurrent celebrations.
More recently starting a few years ago, and with approval of the board and membership we now as well operate and market ourselves under our new name know as the "Jewish Community Centre of Peterborough". It has been a truly satisfying experience due to our reaching out and opening our doors to so many organizations throughout the region.
For another fascinating source of Jewish history in the Peterborough area go this website, the Ontario Jewish Communities – Peterborough.