For further information on any of these events, email to: contact@jccpeterborough.com
Please NOTE: The events below are listed by date descending…that means you will need to scroll down to see the events according to their date in the year. For example, July events are further down in the list than August events.
==============================================
Coronavirus-19 Update
Dear Beth Israel Congregation,
The Jewish legal principle of Pikuach Nefesh tells us that saving a human life takes precedence over virtually all else.
Updates:
Below you will find an outline of our policies for upcoming in-person events:
1. All people entering the building must wear a well-fitting mask that covers the nose and mouth. Exceptions to this policy will be made for those on the Bimah and/or when people must eat indoors, for example in the case of bad weather (see #5);
2. Spacing: We will maintain as much space as possible between household groups. We will also ask that people respect each other's personal space. During services, we will avoid practices that bring members of different households within close contact;
3. Removing our Vaccine Mandate: BIC will no longer require those attending in-person events to be fully vaccinated as there is little evidence that 2-dose vaccination limits the spread of Covid, only that it limits the severity of the illness;
4. Ending Contact Tracing: We will no longer collect names and numbers of participants in events as contact tracing is no longer viable;
5. Eating at in-person events: We will limit food to finger food or to meals that can be easily eaten outside. While food may be set up inside, we will strongly encourage people to eat outside unless their accessibility needs or the weather necessitate indoor dining. If indoor dining is necessary, we will set up tables in a manner to allow proper distance between households.
We very much look forward to celebrating together in the weeks to come!
Just in case you still might be getting a booster, have a look at the blessing below:
Vaccination (Booster) Blessing
Many of us have now started to receive COVID vaccinations and so I though it might be time to once again re-transmit the Vaccination Blessings that Cantor Leon Litvack had put together for us:
Blessings to recite on receiving the COVID-19 Vaccine
For everyone who has undergone and survived the trials and tribulations of the last year, receiving the vaccine will be a relief; but it may also be considered a blessing, in the Jewish sense. We recite blessings every day of our lives: when we get up or go to bed, eat, sleep, pray, and on many other occasions; indeed all of our human functions emanate from the showering of God's grace upon us. For this reason, it is appropriate to recite these two blessings when receiving the vaccine.
1. A blessing to thank God for the miracle of our bodies:
בָּרוּךְ אַתָּה יְהֹוָה אֱלֹהֵינוּ מֶלֶךְ הָעֹולָם, רֹופֵא כָל בָּשָׂר וּמַפְלִיא לַעֲשֹות בִּידֵי כָּל יֹושְׁבֵי תֵבֵל
Baruch atah Adonai Eloheinu melech ha-olam, rofeh chol basar u-maflee la-asot bi-dei kol yoshvei tevel.
Baruch atah Adonai, our God, sovereign of time and space, who heals all flesh, and works wondrously through human hands.
2. The Shehecheyanu: a blessing to celebrate special occasions. We recite it to give thanks to God for new and unusual experiences.
בָּרוּךְ אַתָּה יְהֹוָה אֱלֹהֵינוּ מֶלֶךְ הָעֹולָם שֶׁהֶחֱיָנוּ וְקִיְּמָנוּ וְהִגִּיעָנוּ לַזַּמַן הַזֶּה
Baruch atah Adonai Eloheinu melech ha-olam, shehecheyanu, ve-kiyemanu, ve-higiyanu lazman hazeh.
Baruch atah Adonai, our God, sovereign of time and space, who has given us life, sustained us, and has enabled us to reach this moment.
Cantor Leon Litvack (1 Nisan 5781, 14 March 2021)
==============================================
Kabbalat Shabbat Service
Zoom ONLY
So sorry to those whose saw this notice as service in-person…
sincerest apologies if you went to Beth Israel expecting a service there.
When: Friday Nov. 18th, 6:40 p.m.- 8:30 p.m.
Where: Zoom
We will make every attempt to have in-person services combined with live-stream (Zoom) access for those who wish to attend remotely. This may not always happen. For this week's community gathering and Kabbalat Shabbat service Zoom connection please contact Ron at
bisptbo@gmail.com
or Ziysah at
getinvolved@jccpeterborough.com
if you:
wish to attend and require the Zoom connection details;
would like to do an English reading; and/or,
wish to receive a copy of the service in pdf.
If you are interested in doing one of the English (or Hebrew) service readings or you wish to read a poem or some other short piece as part of the service, an original work, or just a favourite, please let us know NOW, like
NOW
. Kids, this means you too. The absolute cutoff for replies is
before Thursday evening prior to service date
. Because of the need to exchange emails and set up schedules to plan the service, last-minute replies cannot be accommodated.
Do you want to practice those familiar Kabbalat Shabbat songs as presented by our talented religious leader, Dan Houpt? Unequivocally, the answer is yes, so go to this YouTube link:
https://www.youtube.com/watch?v=K41y1QRLi3g
.
Many, many thanks to Dan and his technical director and producer (and btw, son) Sam Houpt, direct from deepest Douro, Ron Molnar and many other volunteers for their dedicated efforts to make these Kabbalat services happen!!
NOTE: Return to this page often to find out details about upcoming Kabbalat Shabbat services and gatherings. Content below will change as we transition more to in-person Kabbalat Services. COVID requirements are still in place. Please read the details above regarding what you need to do to keep yourself and others safe while at Beth Israel Synagogue. To summarize, the requirements for participating in the Kabbalat Service in-person when they happen are as follows:
Wearing of masks.
No drink or food consumption.
Social distancing.
==============================================
Holocaust Education Week Events:
Confronting Antisemitism Today
When: Nov. 16th, 2022,
2:00 p.m. to 6:00 p.m.
Where: Beth Israel Synagogue
Beth Israel Congregation and its Outreach Committee are offering two events on Nov. 16th that look to Holocaust Education as one way to combat antisemitism and other hatreds in our present day.
a Yad Vashem exhibit entitled: 'Stars Without a Heaven: Children in the Holocaust';
two educators from Yad Vashem who will speak to the theme of Confronting Antisemitism Today.
For more details, please go to our Holocaust Education page.
==============================================
BIC High Holy Day Services
Please go to this link for more details about the High Holy Day services offered by Beth Israel.
==============================================
Peterborough-Nogojiwanong Pride Parade 2022
When: Saturday September 24th, 2022 at 2 pm
Join the Beth Israel Congregation as we celebrate diversity, community, unity and PRIDE! We have a BIC Pride Banner and will march together as a group in the parade. The parade begins at 2 pm, but meet us at City Hall for pre-parade activities at 1:30 pm.
The parade will run from City Hall on George Street, south to King Street, and then east to Millennium Park. Post-parade parking of vehicles will be on Water Street.
More information will be given shortly, but feel free to direct questions to Jenn at getinvolved@jccpeterborough.com

BIC Annual General Meeting
When: Tuesday, June 28th 7:00 p.m.
Where: ONLINE (ZOOM)
We will review the past year including our finances, discuss the future and take questions from the floor. And of course vote in our Board for the upcoming year.

Anyone who is interested in serving on our Board, please contact Larry Gillman.
==============================================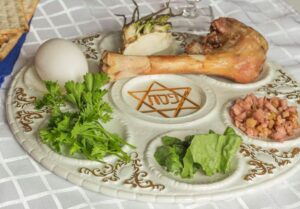 Community Passover Seder
When: Saturday, April 16th. 6:00 p.m.
Subject: Community Passover Seder registration

Content:

Your name and other persons who might be attending
to receive the registration link and further information such as access to a Haggadah.
It won't be the same as seeing each other in person, but we are nonetheless quite excited to embark on our third ever online Seder.
We ask that you register BY WEDNESDAY, April 13th, (see registration link below) so we can ensure we have the capacity for all. We will also be 'seating' guests at 'tables' (virtual subgroups) so you will have times during the Seder when you can talk and interact with those at your table. The link to the Zoom call will be forwarded to you once we receive your registration. You may join by phone or internet.
Please click the following link to register. https://forms.gle/FAobpg5WLvuVP6hv6
You are welcome to invite your friends and family.
Hag Sameach!
When: Saturday, April 9th. 10:00 a.m. – 12:30 p.m.
A message from Cantor Litvack, our spiritual leader for this event:
Dear friends,
The Shabbat before Pesach is known as "Shabbat Hagadol" ("the Great Shabbat"). It holds special significance in Jewish tradition, because it was the day, in the year of the Exodus (some four thousand years ago), that the Israelites were first commanded to prepare a lamb for the Passover sacrifice. Such an act would have upset their oppressors, the Egyptians, because the lamb was sacred in their pagan culture. The fact that the Egyptians did not rise up in anger against the Israelites, just before they were due to leave Egypt, is considered a miracle in Jewish tradition.
On Shabbat Hagadol there is a custom to read a portion of the Haggadah, in preparation for the festival. We read from the "Magid" section of the Seder, beginning with the words "Avadim hayinu" ("We were slaves") up to the words, "le-chaper al kol avonoteinu" ("to atone for all of our sins"). This section includes such famous rituals as the recitation of the Ten Plagues while we spill drops of wine, and the songs "Ve-hi She-amdah" and "Dayenu". It also includes the biblical commandments to remember the Exodus and tell its story throughout our lives (Devarim 16:3). This custom of reading the Haggadah reinforces the point that the miracle of redemption began on Shabbat Hagadol.
In addition to our musical service, we will engage in a discussion by congregants, about their experience of miracles. There are times in our lives when we have experienced extraordinary things. Sometimes we end up attributing these to coincidence; at other times they fall within the sphere of the marvellous; still on other (unique) occasions, they may be attributed to divine intervention or the miraculous.
To celebrate the miracle of redemption from slavery, and the formation of the Jewish nation at Pesach, we will invite congregants to share with us their experiences of the miraculous (whatever that may mean to them). I will also share with you a story of my own experience of the miraculous, which confirmed for me beyond doubt that there is a God, who listens to humankind.
I look forward to seeing you on 9 April at 10 am!
With love from Cantor Leon
==============================================

Purim Celebrations
When: Friday, March 16th. 6:00 p.m.
Subject: Purim Play registration

Content:

Your name and other persons who might be attending
Is there still time to participate in the Purim Play, you ask? Glad you asked that question. If you're interested in taking part in the Purim Play featuring kids and adults, please fill out this form: (Click on this link: https://forms.gle/ZFn5ho2mKxSyyoGg6.) All ages and abilities welcome!
What about all those wonderful Hamantaschen snacks, you ask? You wanted them delivered, maybe? BIC Outreach Committee hears your call. Please contact us with your registration email stating you wish Hamantaschen, and whether you want them delivered or not. Email link is: getinvolved@jccpeterborough.com
You say you want to help with Hamantaschen deliveries, and/or would be willing to help with the Purim Play technical operation? Again, with your registration email mention you wish to help, and how!
Finally, don't miss the fun and bring your "greggers and clackers"!