_______________________________
International Holocaust Remembrance Day Event – January 26th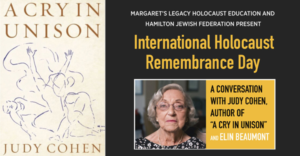 International Holocaust Remembrance Day
Join us in commemorating International Holocaust Remembrance Day with Margaret's Legacy on January 26 via Zoom.
Judy Weissenberg Cohen was born in Debrecan, Hungary in 1928. As the Nazis occupy Hungary, Judy's world is shattered and is faced with the incomprehensible- Auschwitz-Birkenau. In the shadow of the gas chambers, she clings to her sisters and "camp sisters", who are her only hope of enduring the miseries that are to come. Judy is an active speaker and Holocaust and human rights educator. In 2001 she founded the website "Women and the Holocaust (https://theverylongview.com/WATH/) which collects testimony, literature, and scholarly material exploring the specific gender-based experiences of women in the Holocaust.
Ellin Beaumont has planned and organized community and educational events and programs for the Holocaust Survivor Memoirs Program at The Azrieli Foundation over the past thirteen years. During the pandemic, Ellin has organized an facilitated numerous virtual programs and interviews with survivor authors published through the Memoirs Program.
Please contact jstirling@jewishhamilton.org to receive your link.
_______________________________
BIC Holocaust Education Week Events:
Confronting Antisemitism Today
During the month of November, Holocaust Education events often occur around the time of Kristallnacht (Night of Broken Glass), a reference to the days of November 9th to 10th, 1938 when state sanctioned and nation-wide pogroms of Germany's Jewish communities occurred. This year, on November 16th, BIC has the very good fortune to offer an exhibit and presentations by two Yad Vashem educators. Yad Vashem is the World Holocaust Remembrance Center located in Jerusalem, Israel.
The events on November 16th are as follows:
Exhibit — from 2PM to 6PM:
"Stars Without a Heaven: Children of the Holocaust" is an interactive display of the experiences and creative expressions of Jewish children during the Holocaust and the horrific persecution they endured.
Title: "Confronting Antisemitism Today: Paradoxes and Challenges"
Title: "Teaching the Holocaust to Generation Z"
Question and Answer to follow.
Guest Moderator: Dr. Karen Blair (Trent University, Psychology Department)
NOTE: Both events are free but do require an RSVP. The link to register is: Holocaust Photo Exhibit, Presentations .
Please distribute this BIC-YV Event Poster about these events to your family, friends and colleagues.
Please note that the Hamilton Jewish Federation (HJF) has made this special opportunity possible for us. The generosity of the HJF and its kind members is outstanding and so humbly appreciated and acknowledged. Also, please note that Yoni and Robert are presenters at the upcoming HJF's International Conference on Antisemitism (November 19th – 21st). A link to more details for this conference is: #nomoreantisemitism
_______________________________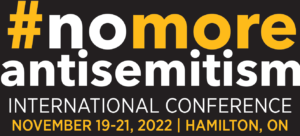 As described at the home page for the International Conference on Antisemitism
"Hamilton Jewish Federation's inaugural #nomoreantisemitism International Conference aims to bring together people of all ages, communities, ethnicities, and cultures to learn and to have an open dialogue about antisemitism. Students, educators from all levels, community advocates, as well as unaffiliated community members are invited to register. "
For more details and to register for the conference please click here.
_______________________________
Yom HaShoah (Holocaust Remembrance Day)
During the week from April 25th to May 2, 2022, Beth Israel's Outreach Committee have events planned to commemorate Yom HaShoah., Israel's Holocaust Remembrance Day. Yom HaShoah begins in the evening of April 26th and continues to the evening of April 27th.
COVID requirements to be implemented for all in-person events.
Click here for details about COVID requirements.
Here is a list of the BIC events:
Monday April 25th at 6:30-8:30 pm
Opening of "Survivors with Cameras", a creative therapeutic photography exhibit of the stories and works of a group of Holocaust survivors.
Location: Synagogue hall downstairs at 775 Weller St., Peterborough
_______________________________
Wednesday April 27th at 6:30-8:00 pm
Yom HaShoah, (Holocaust Remembrance) vigil and prayers for past and present victims of war crimes and genocide.
Location: Synagogue hall downstairs at 775 Weller St., Peterborough
___________________________
Monday May 2nd at 7:00-9:00 pm
"The Stories That (Don't) Survive:
the art of storytelling, shaping and reshaping of cultural narratives."
This workshop is being facilitated by Poet Jon Hedderwick, exploring how we can write our own family history stories of survival and luck. There is a limit of 15 people. Registration is required. If you wish to register please contact: getinvolved@jccpeterborough.com

Holocaust Remembrance Day — April 27th – 28th, 2022.
Yad Vashem has an extensive list of programs available for the commemoration of Yom HaShoah: click here for details.
International Holocaust Remembrance Day –
January 27th 2022
Holocaust Remembrance Day

On January 27th, at 7 p.m. EST, Friends of Simon Wiesenthal Center, the Canadian Society for Yad Vashem, the Azrieli Foundation and the Neuberger Holocaust Education Centre will commemorate International Holocaust Remembrance Day with a special virtual program.

This year's event will feature a poignant candle-lighting ceremony presented by Holocaust survivors and a tribute to survivors Max Eisen, Rose Lipszyc and Eva Olsson, who were recently appointed to the Order of Canada. Also participating are Canada's Special Envoy on Preserving Holocaust Remembrance and Combatting Antisemitism, the Honourable Irwin Cotler, and Rabbi Baruch Frydman-Kohl, in honour of his recent appointment to the Order of Canada, who will recite Kaddish.

Join us for this moving program as we continue to keep the memory of the Holocaust alive, in Canada and beyond. It is more critical than ever.
Holocaust Education
Events during November 2021
Beth Israel Congregation — Outreach Affiliated and for Member Involvement
1. A special Beth Israel Kabbalat Shabbat service on November 12th to include reflections on the Holocaust. Everyone is welcome to submit, and read if you so wish, commemoratives e.g., short readings, poetry, messages, etc. for this occasion. Please send your submissions as soon as possible to the Outreach Committee at: getinvolved@jccpeterborough.com
2. On November 9th (7:00 p.m. – 8:30 p.m.), we have an opportunity to listen to Holocaust survivor, Pinchas Blitt speak about his memoirs "A Promise of Sweet Tea." and answer questions from university history students including ones from Trent University. His memoirs are available for free. If you wish a link to the forum and a free copy of his memoirs please contact the Outreach Committee as soon as possible at: getinvolved@jccpeterborough.com. For more details click on this link from the Azrieli Foundation website. See poster below.
3. Tentative: A facilitated discussion about "The Light of Days: The Untold Story of Women Resistance Fighters in Hitler's Ghettos," a book by Judy Batalion. And possibly a storytelling workshop with Holocaust narratives as the inspiration. Please stay tuned to this web page for more details!
UJA Federation/Sarah and Chaim Neuberger Holocaust Education Centre
The Neuberger Centre has many online events scheduled for the month of November, starting November 1st, for Holocaust Education and some on Indigenous Truth and Reconciliation. Here is a link to the November calendar: https://www.holocaustcentre.com/upcoming-events/month/grid/2021/11/15 If you are a registered Virtual JCC member, you should have access to all these events.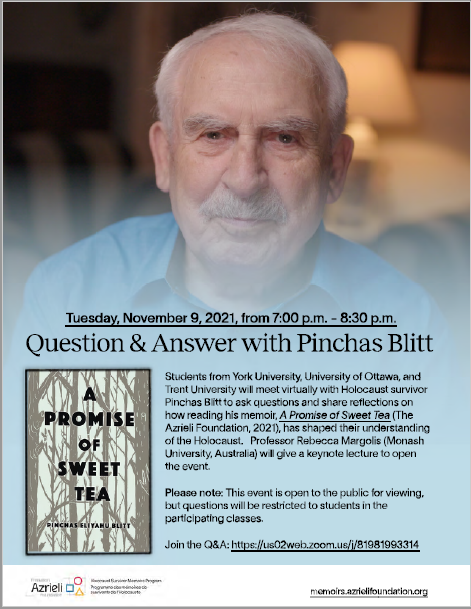 Below are Events from 5781 (2020-2021)
International Holocaust Remembrance Day
On January 27, 2021 we recognize International Holocaust Remembrance Day.
Please mark your calendars for two very important events.
Yad Vashem will debut the first-ever virtual tour of Block 27, – the most visited international pavilion in Auschwitz I. Block 27 was developed by Yad Vashem and was officially opened on June 13, 2013. The exhibition is divided into several galleries, focusing on Jewish life before the war, the ideology of the Nazis and the extermination of Jews within the Nazi-occupied Europe. There is one room dedicated to the memory of children murdered during the Holocaust. In it, you can see the work of artist Michal Rovner, who used dozens of children's drawings in her creation. At the end of the exhibition, is a section dedicated to memory, including a book of names of victims of the Holocaust collected by the Yad Vashem Institute, as well as Reflection Centre.
Also beginning on January 27 and continuing until February 3, 2021, the Consulate General of Israel in Toronto & Western Canada invites you to a a week-long exclusive screening of The Essential Link, a 70-minute documentary film by acclaimed Israeli filmmaker Yonatan Nir. This documentary film focuses on German businessman and socialite Wilfrid Israel. The Canadian Society for Yad Vashem is a sponsor of this event.
Due to COVID-19, our office remains closed. We are continuing to work from home. We can be reached by email at
info@yadvashem.ca
or 416-785-1333/1-888-494-7999.
Have a safe week.
Fran Sonshin
e
National Chair
Jonathan Allen
National Executive Director
Virtual Tour of the Exhibition "Shoah" at the Auschwitz-Birkenau State Museum

"Open your heart, visitor. And your mind. And your soul. As you walk through the exhibition "SHOAH" and are enveloped by the sights and sounds of the past, hear the voices of the victims, see the drawings of the children, touch the names of the murdered." – Elie Wiesel.

Join us on a virtual tour of "Shoah" the permanent exhibition in Block 27 at the Auschwitz-Birkenau State Museum, where we will heed Elie Wiesel's call. The tour will explore the central themes of the Holocaust, offer insights into the rich Jewish life that existed prior to 1939, the world of children during the Shoah and the monumental Book of Names.

Register here.

Note: This event will be pre-recorded. It will debut on January 27, 2021, but will be available for viewing after this date. More details to join the event will be forthcoming
The Essential Link

In commemoration of International Holocaust Remembrance Day, the Consulate General of Israel in Toronto & Western Canada invites you to a a week-long exclusive screening of The Essential Link, a 70-minute documentary film by acclaimed Israeli filmmaker Yonatan Nir. This 70-minute film shines light on the life of elusive German businessman and socialite Wilfrid Israel, who was instrumental in the saving of tens of thousands of Jewish lives during the Holocaust. As Yonatan Nir dives deeper into uncovering Wilfrid's life, the more he discovers about his own life. Viewers can

click here

to access the film starting on January 27 to February 3.

As well, to be a part of an exclusive webinar with filmmaker Yonatan Nir, please register for the event through by

clicking here

.

We hope you enjoy the film, and look forward to seeing you on the webinar."
We invite you to be our partners in ensuring that the universal lessons of the Holocaust are transmitted to the next generation. We are grateful to you.

Stay Connected!

Make sure to 'like' our Page on Facebook and 'follow' us on Instagram for updates on our programs, engagement opportunities, and educational posts.
February 10, 7:00 p.m. – 8:30 p.m. Judy Cohen (A Cry in Unison)
The Azrieli Foundation is organizing a Zoom event with Judy Cohen for Trent University students and the Beth Israel Synagogue members. Judy's account of her Holocaust experiences is entitled: A Cry in Unison. More details about her memoirs and the Azrieli Foundation can be found at this link. Judy, in addition to talking about her Holocaust experiences and tireless Holocaust education efforts will be answering questions from the students of Professor Carolyn Kay's history class. BIS members will have a chance to ask questions also.
Please click the link below to join the webinar:
https://us02web.zoom.us/j/87810436461
April 6th: Virtual Evening with Max Eisen (By Chance Alone)
Trent University's Lady Eaton College presents a virtual evening with Dr. Max Eisen, Holocaust survivor on April 6, 2021, from 7 pm to 8:30 pm.
Dr. Max Eisen is a public speaker and Holocaust educator. He travels throughout Canada to give talks about his experiences as a concentration camp survivor. He is the author of "By Chance Alone", a memoir that narrates his childhood, terrible experiences of World War II and his ultimate emigration to Canada. Dr. Eisen is a Trent Honorary Degree recipient and Honorary Fellow of Lady Eaton College.
The event is sponsored by Lady Eaton College. Admission is free, but registration through Eventbrite is required using this link:
https://www.eventbrite.ca/e/an-evening-with-dr-max-eisen-holocaust-survivor-tickets-137804955331?aff=erelexpmlt
You can also contact Lady Eaton College office for more information:
Email: eaton@trentu.ca Phone:(705) 748-1011 ext. 7022 Office: Lady Eaton College, Suite 119